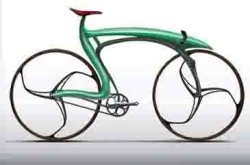 Designer Alex Suvajac apparently thinks so. Obviously frogs inspire him. The result is a sleek concept track bike that looks a lot like an aerodynamic racing amphibian on two wheels. It is as much a work of art as it is a bike, blending space age and technological looks with nature.
I'm not sure about leaning that far forward to hold onto the handlebars. Then again, this beauty is obviously built for speed and since "being one with nature" is obviously the theme, why not lean into it and merge with the frame. Hopefully, that doesn't mean swallowing a bug or two along the way. As cool as this bike is, it remains just a concept for the moment. It is however, proof that nature has a lot to offer when combined with technology. Especially aesthetically.
One day, I might be lucky enough to ride one. But I'll probably be stuck in the tad-pole sidecar.
bicycle, bike, Concepts, Designs, frog