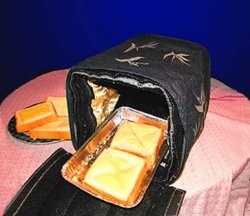 This is for the gadget lover that enjoys food a little too much. It resembles a cloth lunchbox, but don't let that fool you. This foldable new "easy bake oven" is perfect for the outdoorsman who absolutely must bake a small cake while enjoying nature.
Your culinary camping experience will be made possible by researchers with the Taiwan Textile Institute, who developed a cloth that can withstand high temperatures. They turned their discovery into this foldable oven, great for military use as well as other outdoor catering activities. They claim it can reach 300 degree temperatures.
Right now it's still a prototype, mainly because it uses a ton of electric power, making it impractical in the field. But worry not, outdoor chefs. There will come a day when you can cook in a cloth bag and attract vicious wildlife.
[Coolest-Gadgets] VIA [Gadgets-Weblog]