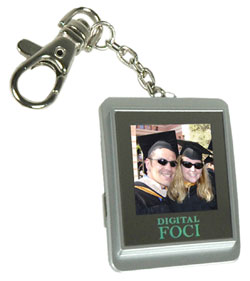 Digital Foci, a developer of digital picture products, is turning to keychain designs to help you carry around your digital photos. The new Digital Foci Pocket Album is priced around $40.
The Digital Foci Pocket Album takes the form of a keychain like device. It sports a 1.5-inch color screen which can be used to view photos for up to nine hours before needing recharging. The Pocket Album can hold up to 74 photos with its 8MB of internal memory. It does not unfortunately offer any type of expansion.
Other features of this digital picture keychain include manual or automatic picture display options, included software for transferring the photos onto the picture viewer, a built-in clock and LCD adjustable contrast for a better viewing angle. The Pocket Album should be available now.