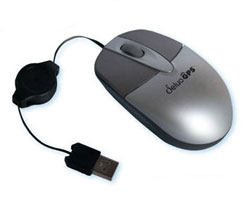 Peanut butter and jelly. Black and white. GPS and mouse. That's right – someone has gone ahead and paired GPS technology with a computer rodent. Hold onto your wallets and read about the questionable new gadget known as the Deluo MouseGPS, priced at around $100.
The Deluo MouseGPS, which we first covered earlier this month, is quite simply a USB mouse with a retractable USB cord and optical scrolling. The quirky part becomes apparent when you flip the switch and it becomes a GPS receiver which "tracks 16 parallel satellite channels for ease of use in even densely urban or rural areas." It pairs with Microsoft software such as Streets & Trips to help you navigate around town.
Now you have to ask yourself: GPS in a mouse? Did the designers think about the fact GPS doesn't work so well indoors? I suppose if I mount the mouse on my dashboard as I drive around town I could use it while looking at my laptop screen (accident waiting to happen). If you dare, this product is available now.
Deluo, GPS, mouse, Mouse, MouseGPS