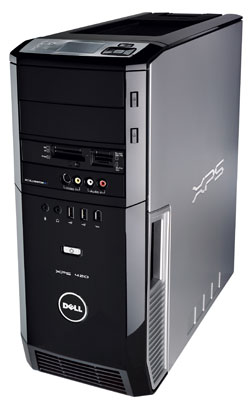 Dell looks to have a hot new desktop PC on its hands which should work equally well for graphics work or in a consumer environment. The Dell XPS 420 has a starting price of around $1,500.
The Dell XPS 420 comes pre-loaded with a suite of Adobe software for graphics work, including Photoshop Elements 6, Premiere Elements 4 and Soundbooth CS3. It has a very stylish look to it, including an integrated LCD display which let one see and access songs, photos, video and system settings without needing a keyboard, mouse or external display. There's also an optional media accelerator which Dell says, for example, can convert video for a portable media player up to 25 percent faster.
Technical specs of the XPS 420 include Intel Core 2 Duo or Extreme processors, up to 4GB of RAM, up to 1TB of data storage and a PCIe x16 graphics slot for support of high end graphics options. This Dell desktop should be available shortly.