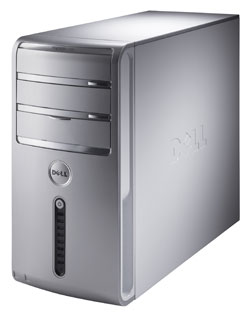 Ever worry about how much energy your desktop is sucking from the grid? Dell wants to help you cut that energy suck down by introducing a new computer into your world. Hug your favorite tree and hit Dell's Web site for the Inspiron 531, priced at around $370 starting.
The Dell Inspiron 531 is Energy Star 4.0 compliant. Eco and power saving-friendly options include an "80 percent efficient" power supply, a built-in mechanism to switch to a low-power sleep state after 15 minutes of inactivity and a paperless owner's manual.
Tech features, at least at entry-level, can be configured with an AMD Athlon 64 X2 dual-core processor, 1GB2 DDR2 memory, 160GB3 hard drive, CDRW / DVD combination drive and NVIDIA integrated graphics. Get this desktop and Bambi will thank you. The Inspiron 531 is available now.