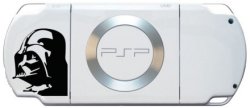 If your old PSP wasn't slim enough or white enough, or if you like Darth Vader slapped onto consumer products, then by all means rush out and get this limited edition PSP. It's scheduled to hit store shelves today and is part of a $199 bundle, which includes Star Wars Battlefront.
This makes great bling for geeks. I sense many sales. The force is strong in this one. PSP fans and Star Wars fans alike can thank God they have Vader. You know…Since Jar Jar didn't quite take off. Thanks to the original trilogy, there are plenty of images to adhere to items for years to come.
It's getting to be like the T.V. Guide covers, where people have to buy 4 or more of the same thing, just with different photos. Geeze.
[Playstation Blog's announcement] VIA [Engadget]