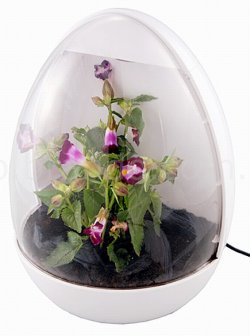 Do you have a green thumb? Or are you a homicidal gardener? It won't matter anymore, thanks to Brando's USB greenhouse. You will never have to feel bad again as you watch plants grow before your eyes.
Combining nature with technology, Brando's greenhouse has a USB-powered (And egg shaped) case that uses a growth light to stimulate plants. Since it is a mostly hands-off process, you'll soon forget about your previous plant track record. The device will monitor moisture and remind you when you need to water your thriving plant friend. Comes with software, Marigold seeds, and artificial soil.
The Brando USB greenhouse will provide you with a bit of nature's beauty on your desktop. At $43 this would make a great gift for those who have limited space for flowers in their home.
Why do I get the feeling people are going to grow something "medicinal" in these?