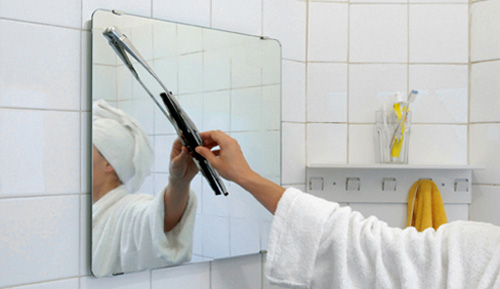 I can see how this one might work very well. You've probably always wished you had a windshield wiper on your bathroom mirror. Something to defog and at the same time, clean the funk off. I know I have, but I am a lazy inventor. Which is why someone else will profit from this one.(again!)
This bathroom technology could not be simpler. The wiper blade is mounted in the upper left corner and it requires manual wiping to get the mirror clean. I know, they should have put a tiny motor in it, but it's still cool. Like I said, simple.
The wiper arm has a chrome finish in either a 500cm x 450cm version or a larger 700cm x 500cm version. I'm not sure where to buy one or what the price is, but I know I want one now.
[Causasexternas] VIA [OhGizmo]