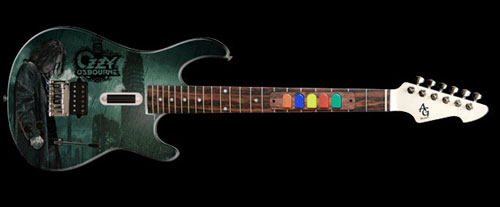 Fans of guitar-based video games such as those on the PlayStation 2 will be happy to note ArtGuitar is bringing some limited edition, musician stylized guitars their way. Artists whose materials will be appearing on these guitars include Ozzy Osbourne and KISS.
The AG RiffMaster Guitar Controller is a full-size Peavy guitar modified to be a video game controller. It offers up, according to ArtGuitar, a glossy finish with a professional feel. These guitars are reportedly limited edition and, besides new images of Ozzy and KISS, already have images of Panterra and Lynyrd Skynyrd in the company's line up.
No specific word seems to have been mentioned by ArtGuitar about these new AG RiffMaster Guitar Controllers' pricing or availability, though 50 dollar deposits are being taken for each of the guitar designs. We can't image this video game controllers will be cheap – at least you'll get to rock out with your favorite musical artist in hand though.