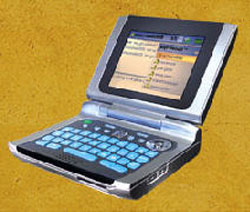 Zipit Wireless, a developer of wireless consumer electronics, unveiled today a new Wi-Fi instant messaging device targeted at teens. The Zipit Wireless Messenger 2 is priced at around $150 and should be available in October.
The Zipit Wireless Messenger 2 is a portable handheld device which offers wireless IM connectivity with no monthly or per message fees and supports all the major IM platforms — AOL, Yahoo and MSN. It works with any open wireless hotspot and allows one to have multiple, concurrent conversations. It also lets one listen to music, view photos, play games and customize it with backgrounds, themes and other content.
Zipit says over 16 million teens now IM on a regular basis. That being said, it's hard to see many of them plunking down $150 for a device like this, especially as cell phones get cheaper while letting friends text message and IM one another already.