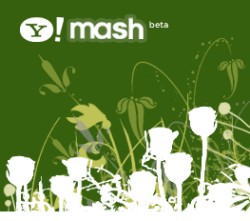 Yahoo has a new social networking site in the works called Mash, which is has similarities to popular sites such as MySpace or Facebook along with some "added twists" according to Will Aldrich, the team lead for Y! Mash.
Yahoo Mash is just in beta right now and is available by invite only but Will provided some scant information about the service along with letting us know that there are still some things in the works for the site. What seems to set Mash apart from the others mostly revolves around the ability for users to start and edit profiles of their friends.
A Mash user can create a new profile for someone else they know and send it to them, where they can then take it over going forward. Users can also leave their profile open to be edited and added to by approved "friends" on the social network. Additionally the interface can be enhanced with a number of module applications that are created for the site.
According to TechCrunch, an invited user of Mash, the service not only allows users to edit each others profile content, but it encourages it. It also features something called Pulse which is a news feed of your friends activities on Mash. Comments on the Aldrich's Mash blog inquiring about this service being a replacement for Yahoo 360 have so far gone unanswered.