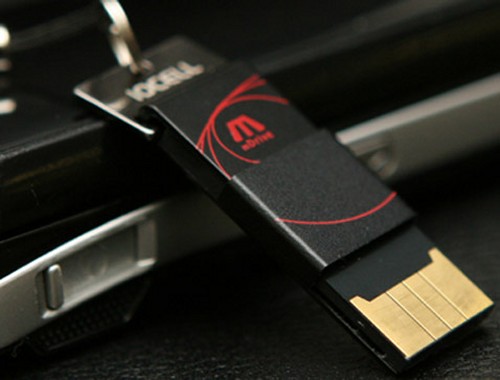 Waterproof electronic devices just always seem kind of cool for some reason. Anytime you can take some electronic gadget under water and it still works, even when there is no need, automatically moves it up the "cool" list a few points.
A good example is the mDrive waterproof USB Flash drive from Gidis. The slim drive comes packaged in a CD jewel case with a smooth looking black and red Taegeuk design, but what's most noteworthy is that its waterproof. We're not sure just how many things you're going to be able to actually plug this thing into when your under water but when a device comes along with a functional, underwater USB port, Gidis will be ready. Then again, this of course could be handy right after you've downloaded the secret documents onto it while on your secret spy reconnaissance mission, and then have to dive into the ocean in a narrow escape.
In both cases this drive is available in a 1GB and 2GB capacity priced at $41 and $62, respectively.
via Aving