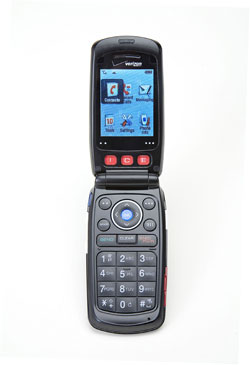 There's definitely a segment of the mobile phone using crowd which prefers its phones to be easy to use and not overly technical. For those people Verizon Wireless today announced the Coupe, priced at around $20 with a two-year service agreement.
The Verizon Wireless Coupe is slim and lightweight, weighing 3.3 ounces. It has dedicated keys for quick access to emergency contacts, a few simple integrated tools like alarm clock, a larger on-screen font size, voice dialing and color coding on body parts like the volume control.
What Verizon also likes to point out is that the Coupe has "earned the prestigious Good Housekeeping Seal." Ummm…ok. Thanks for pointing that out – not that I'll be rushing out to buy one for myself or anyone else anytime soon because of that.