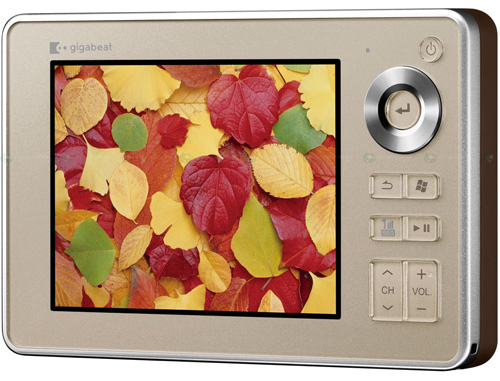 Available Oct 19th, the new addition to the Gigabeat line is based on the Windows Mobile operating system and comes in three color styles: navy, gold and black. Toshiba is treading water with the functionality included in this 11.5×75×14.2mm / 168g package though.
The V41 boasts 4GB of internal memory and is expandable with SD or SDHC cards (up to 8GB) for storing up to 99 shows or 20 hours of streaming 1Seg TV. Based on Windows Mobile, the unit's video playback is limited to WMV and JPEG images but plays MP3, WAV, and WMA/WMA-9 audio formats.
The device sports a 3.5 QVGA TFT LCD screen capable of 260,000 colors and built-in monaural speaker. The PMP also provides an external antenna terminal and comes with a stand to set it up and watch it as a TV.
Expect the V41 to be about $257 USD. And if you think that sounds good, check out the Sony's Walkman NW-A910. In both cases unless you live in Japan you're out of luck watching TV.
Toshiba Gigabeat V41 via Electronista