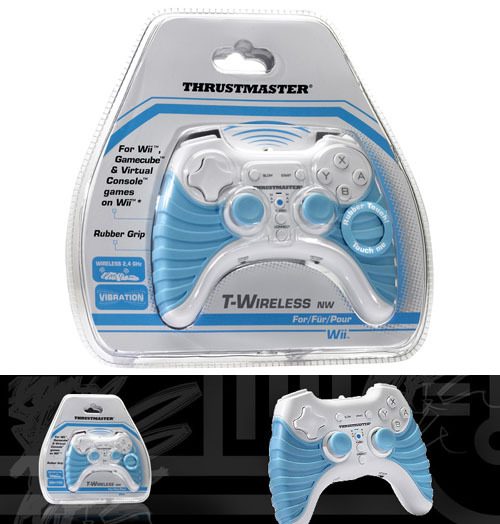 While it may look like a painted-up controller for Microsoft's Xbox 360 it is in fact made for the Nintendo Wii. This is the Thrustmaster T-Wireless NW controller and it's designed for play with the older, classic video games that are being ported for play to the Wii generation.
You get about 30 feet of play range out of it and you can customize the keys, mini-sticks and the D-pad for whatever function you desire. There are also two unusual buttons that will help you get better scores with your Miis: a turbo bottom which you only need to press once to get the same action as repeated button mashing; and a slow button which, if you can guess, slows the on-screen action down when reaction time is of the essence.
The blue rubber coated handles and joysticks will make sure that your grip won't slip during those long play sessions of "Metroid Prime 3″ when those vibrational effects sneak up and surprise you. Price is a reasonable $19.99 and you can pick one up starting next month.