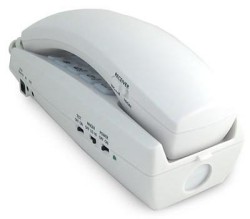 Talk about your sneaky spy gadgets… The TeleSpy Intrusion Detector looks like a standard home telephone when in reality its a motion detector, microphone and secret dialer all in one.
This unassuming phone has a built in infrared motion sensor that's able to cover 45 degrees at the direction it's aiming in a room, waiting for any movement. When motion is sensed the TeleSpy will call up a single, pre-programmed number and then turn on the microphone for whoever answers to listen to what's going on. The TeleSpy phone stays connected for 30 seconds and then hangs up and re-arms itself waiting for the next movement.
This is a pretty sneaky way to see if someone is coming in your room when you're not there and notifies you right when it happens, and you can listen in. But, I could also see this being very annoying if a pet or even a fly on the motion sensor causes you to get endless phone calls. This intrusion detecting dialer can be added to a person's spy arsenal for $59.99 from ThinkGeek.