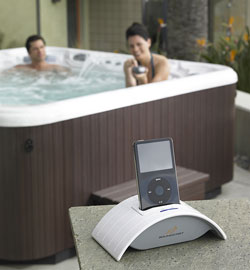 Unless you are using a waterproof case taking your iPod into your spa is probably not a smart idea. Hot Spring Spas believes it has a solution for you though by unveiling its Moonlight Spa Music System.
The Moonlight Spa Music System, which includes an iPod docking station, wirelessly transmits music from any audio source to four weatherproof speakers which surround you as you make sweet love in the spa. You can control tracks on the iPod and adjust audio volume with a floating, waterproof remote control. This remote also lets you control most electronic spa features while in the water.
Hot Spring Spas seems to be on to something with its Moonlight Spa Music System. Could we maybe get it to be programmed to have a servant robot bring us drinks?