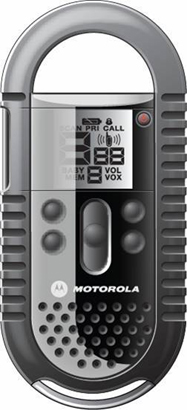 Short-range radios have done a lot to keep people in communication, whether the environment is the great outdoors and you want to stay in contact with your pals back in base camp while you take a trek through the woods or if you're a parent that wants to tell your kids playing down the street that dinner is ready.
Motorola, one of the leaders in these kinds of devices, expanded their line-up of two-way radios today with the announcement of the T3 and T5 TLKR models aimed at people who enjoy active lifestyles with friends, family or anyone that they want to stay in constant communication with.
Sold in packs of two, the T3 has a range of 5km, eight channel frequencies and a battery life of about 20 hours. It also has a channel scan and monitor feature, battery meter, sleep function, low battery warning tone, key lock and of course an LCD display. Motorola also tosses in two belt clips and you can select your favorite color from out of orange, red and blue.
While the T3 is aimed at capturing more of the youth market, the T5 TLKR is geared at adults with what Motorola likes to describe as an "active lifestyle." The T5 boasts eight channels and 121 security codes for ensuring private talks; 16 hours of battery life; a 6km range; room monitor feature; a hands-free function with voice activation; timer; auto power off; a backlit LCD display; five call tones; a twin-charger pod and separate DC charging pack; and an accessory connector. The T5s are also sold in packs of two, come with two belt clips and come in black, blue or red colors. You can also buy an optional 12 volt charger for it.
Both the TLKR T3 and the TLKR T5 will start appearing in stores next month. That's also when we will find out how much they will cost.