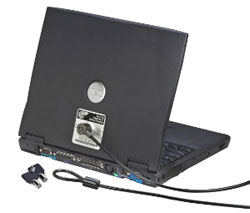 Losing your laptop to a thief can be both an information hassle and a blow to your wallet. A company by the name of Secure-It thinks its new STOP-Lock product, priced at around $40, will make thieves think twice before heisting your notebook.
The STOP-Lock consists of a visible, small metal plate with attaches to your notebook cover. It is stamped with barcode information which is chemically left behind on the cover if the thief somehow comes up with the 800 pounds of pressure necessary to remove the plate. This information can be used to trace the computer back to its owner. A special lock and cable complete the security lock down so your notebook doesn't wander off while you are waiting in a Starbucks line for a latte.
The metal plate admittedly is that good looking and will give stylish laptops a funny appearance. That being said, at least your laptop has a greater chance of staying around in the first place so you can admire it.