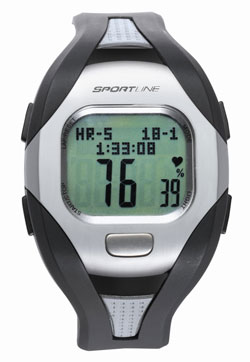 Those seeking to get the most out of a cardio workout can draw today upon a new digital tool which you strap to your wrist to monitor your heart rate. The Sportline Solo 960 Sport Watch is available now for around $100.
The Sportline Solo 960 Sport Watch combines a built-in heart sensor with a built-in pedometer which utilizes motion-sensing accelerometer technology. These two integrated tools give you data which lets you track personal fitness goals. The pedometer specifically can measure steps taken, distance traveled, calories burned, speed, exercise time, and maintain daily and weekly records, while the heart sensor works without needing a strap and can acquire data in three beats or less.
Other features include a stopwatch with countdown timer, five daily alarms, a clock and water resistance of up to 50 meters. The only thing we'd love to see extra with this watch is a way to upload your data onto a PC. Still, it's not a bad fitness gadget.
Sportline Solo 960 Sport Watch Press Release
heart rate monitor, Solo 960, Sportline, watch