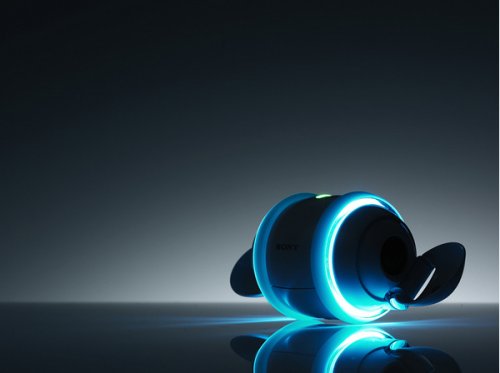 Sony has lifted the veil of secrecy surrounding its musical robotic egg, the Rolly, that we first reported to you a week ago. The 300 gram gizmo is a moving MP3 player that is motion sensitive; give it a spin in one direction and the Rolly's volume will go up, the other way and the tunes will lower down. Pushing the Rolly forwards, backwards or giving it a shake will allow you to change songs. While it's moving about the side corners of it will "flap" and a cascade of pretty blue and green lights will undulate from the bottom of the Rolly.
It comes with 1GB of memory and it's Bluetooth compatible so you can beam your MP3 songs to it without any physical connection. It's also got some dance moves programmed into it and Sony is saying that you will be able to download more moves as well as software that lets you program your own dance choreography into it. Battery life is 5 hours; your interest level may or may not be as long-lived.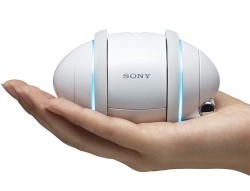 The Rolly will go on sale in Japan sometime near the end of the month and retail for 39,800 yen (or about $350 US.) Accessories that you can pick up include a carrying case ($18) and a charging cradle ($35). Will those of us living stateside and in the U.K. get a chance to pick one up domestically before X-mas? Once again it looks like our Japanese friends get to serve as a test market for the rest of the world.
via AV Watch