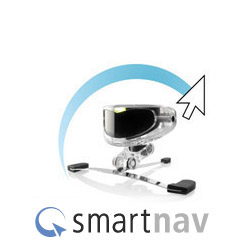 SmartNav by NaturalPoint is a hands free pointing device designed to provide an alternative for graphical navigation. The sensor looks eerily like the flying automatons from Batteries Not Included and sits atop the monitor responding to reflection from the infrared light it generates. You can wear the cap provided with the unit or apply the reflective tabs to anything you wish. The cap is a bit geeky but it works best in my experience.
The software provided allows for fine tuning the reaction of the device as well as control over how the user causes a click event. With a little experimentation the unit can be optimized for minimal head movement. The software accommodates pausing the detector with customizable key commands to make switching to another device simple. There are two methods of evoking a click event: software or hardware. Key commands can be assigned to initiate a click event or any number of simple actuators can be connected to get the most out of the user experience.

Before I purchased the device I had used cheaper, webcam based devices and was skeptical about paying $400.00 US for something that might not provide a user experience that was significantly better to warrant the price. Webcam devices require video processing that is simply not accurate enough to be able to use them all day. The SmartNav, however, is something I would describe as a professional tool for hands free graphical interface control.