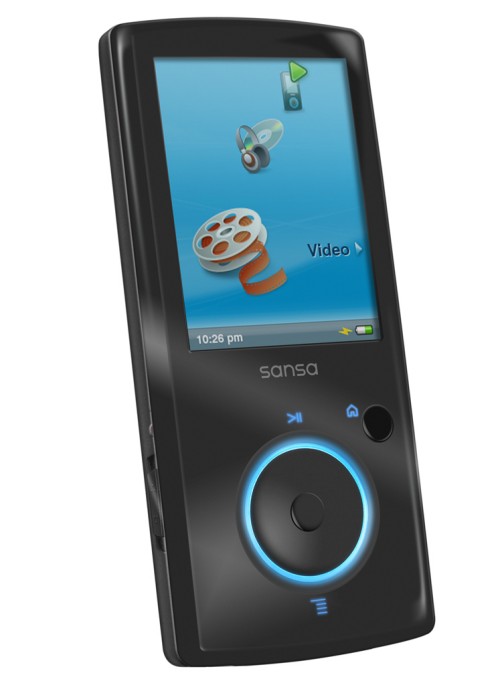 SanDisk announced the release of the final version of the Sansa View today, apparently dumping the original View design the company had unveiled earlier this year. This new design however may make a serious challenger for the latest iPod Nano from Apple with a larger 2.4″ display, up to 16GB of storage and more.
The View supports playback of MP3, protected and unprotected WMA, WAV, audio along with MPEG4, WMV, H.264 and DivX video playback at a nice 30 frames per second. It will also show JPEG photos and play Audible files. In addition to just playing your stored media, this player also packs in an FM tuner with the ability to remember up to 20 preset stations, and also houses a voice recorder with a built-in microphone. And, the storage can even expanded from that already impressive 16GB of storage with a microSD/SDHC slot. The 2.4-inch TFT color display has a 320×240 resolution and the rechargeable battery promises 35 hours of continuous audio playback, or 7 hours of video.
All these features alone are an impressive set to make a nice PMP, but here's where the new Sansa View becomes even more of a real challenger. Even with the large screen, this player only measures 4.29 x 1.95 x 0.35 inches which is as thin as a standard pencil, and the 8GB capacity model will go for $149.99 with the 16GB (expandable to as much as 24GB with a microSD card) is going for $199.99. Apple's iPod goes for the same $199 with half the storage.
Both models are expected to be released by SanDisk yet this fall, but no exact date has been announced. Oh, and these players will officially require Windows with WMP 10 to sync up music and video. Surprised?
media player PMP, SanDisk, Sansa View