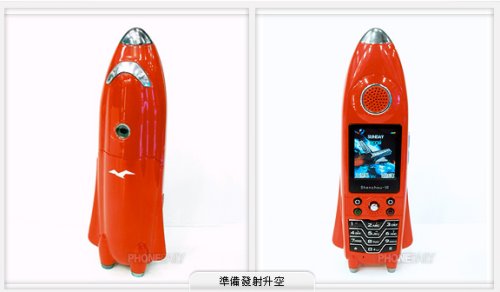 Why can't we get more of the things that Japanese electronics consumers get? It seems that western phones are never as cool as the ones that come from Asia. Is that because the phone designers have deemed this market as boring? Are we westerners too afraid to take a chance and show our inner child in our purchases?
If that was true then why did so many people suddenly want the phone that Neo used in the first "Matrix" movie? Maybe after seeing this next rad phone design someone out in the west will take notice and loosen their tie a little.
I don't know if the company that is selling this invention calls it the Rocket Phone or not but the name seems certainly appropriate. Discovered on the Phone daily website, this little guy comes with a digital camera, plays MP3 files, has a microSD slot, USB port and what looks like a fairly decent color screen.
It's branded the Shenzhou VII which seems appropriate since China is thinking of landing a taikonaut on the Moon in the next decade or so. I can't find a price for this gizmo on its origin site so I'm assuming it's to be announced shortly. In any case I want one so I can share my inner Flash Gordon groove whenever I answer my phone. And if the rocket's windshield lights up like a flashlight, all the more reason to own one.
Phone Daily via Ubergizmo