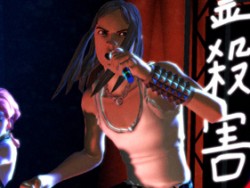 Information on the release of the new "Rock Band" game from MTV has made its way into the blogosphere today flaunting a lower-than-expected price. The game is to be released for both the Sony PS3 and Microsoft's Xbox 360 on November 23, both priced at $169.99. As an early surprise, Rock Star will also be available for the PS2 the following month on December 10, going for $10 less at $159.99.
The games will come bundled with a single guitar, microphone and a drum kit. Also, that guitar that comes bundled for the PS2 and PS3 won't be tethered with any wires letting you rock out more freely but unfortunately the Xbox 360 will require you to plug it in, at least for a while. A wireless guitar model for the 360 is expected to come up sometime next year.
Rock Band is a new game developed by a studio owned by MTV called Harmonix who also made the first two Guitar Hero games (Neversoft is making Guitar Hero III). The premise of the new game is similar to Guitar Hero but it's the first game of its type to allow multiple players to work together as a band taking different roles as the vocalist, drummer, lead guitar player and bass player.