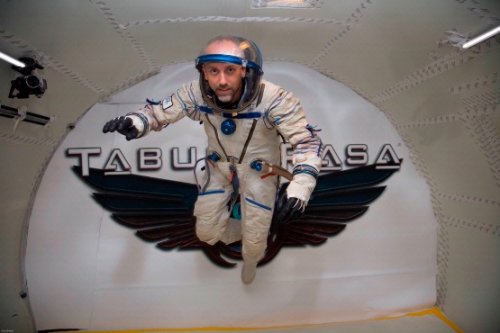 Richard Garriott has been one of the founders of computer role-playing games since the days of the Apple II. Under his gaming name of Lord British, the creator of the best-selling "Ultima" series and the first MMORPG "Ultima Online", Garriott cemented his place in the video game history books. Now he wants to set another record: to be the first second generation astronaut (his father Owen Garriott was a NASA astronaut on Skylab and one of the early Shuttle missions) and the first-ever video game creator to fly into space. Garriott has announced his plans to fly to the International Space Station in October 2008 where he will help perform a number of science experiments.
"I am dedicating my spaceflight to science," remarked Garriott in a press release. "It is my goal to devote a significant amount of my time aboard the space station to science, engineering and educational projects. I understand the necessity for conducting research in extreme environments whether it is collecting microorganisms from deep sea hydrothermal vents to carrying out experiments in the continuous micro-gravity of Earth orbit. We need to be adventurous in mind and stimulate our intellects to answer today's most daunting scientific questions and to invent tomorrow's technological marvels."
While Garriott is no longer involved with the shaping of "Ultima" he is putting the finishing touches on a new science fiction MMORPG. Called "Tabula Rasa" the expansive RPG is set for release on October 19. Garriott is also looking for commercial sponsorship for his ISS trip with the first company to sign up being a biotechnology company co-founded by his father.
UPDATE: You can see more about Richard Garriott and his training for going to to space at the Space Adventures site.