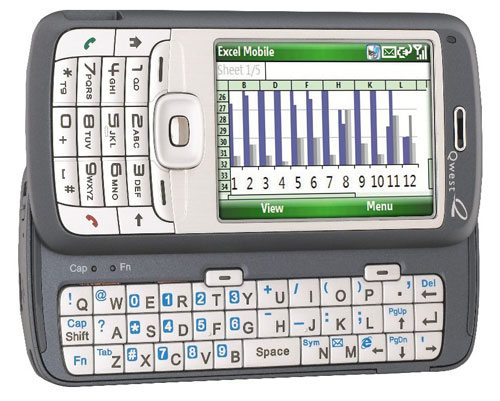 Qwest Wireless is bringing to the United States a new HTC Windows Mobile handset. The mobile operator says it is the first to debut the Quest Fusion HTC 5800, priced at around $200 after a discount we assume is tied to a new service plan.
The Qwest Fusion HTC 5800 is powered by Windows Mobile 6 and makes use of Windows Live. It's also got Microsoft Office Outlook Mobile for better email support. It sports dual keypads – a normal dialing one and a slide-out QWERTY keypad – and includes support for Bluetooth stereo sound. The Fusion also has a built-in 2.0-megapixel digital camera.
The combination of the dual keypad design and the Windows Live integration seem to be the major selling points Qwest Wireless wants to hammer home with the Fusion HTC 5800. And that excites us how?
Qwest Fusion HTC 5800 Press Release