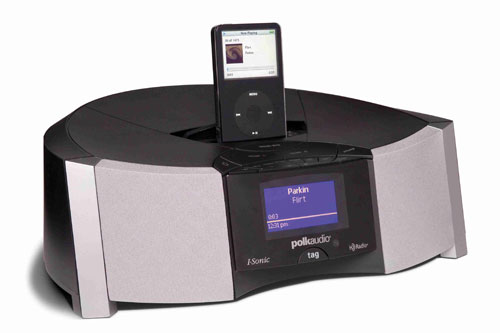 Polk Audio yesterday unveiled a new version of its I-Sonic tabletop radio. The new I-Sonic Entertainment System 2 (ES2) is priced at around $500 and should be available next month.
The I-Sonic ES2 combines iPod and HD Radio playback in much the same way the original I-Sonic did HD Radio and DVD playback. The ES2 has a top-mounted dock which works with all iPods with dock connectors. One feature which is particularly interesting is iTunes Tagging. This new universal technology lets you buy songs heard on HD Radio broadcasts by "tagging" those songs into the ES2′s memory. When you dock an iPod the tags are transferred to the music player as a playlist, which can later be previewed through iTunes on a computer for purchase and download.
This definitely is stacking up to be a cool looking and sounding desktop music system. We especially like the iTunes Tagging option, which for us finally replaces the age old boombox we still use to capture radio songs on cassette.
Polk Audio I-Sonic ES2 Press Release