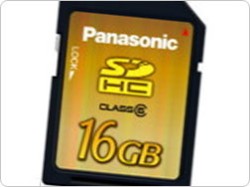 Panasonic has announced that they're going to be launching an SDHC card with a 16GB capacity this November. This capacity quadruples the amount of storage currently available on the companies largest available card.
Panasonic says that the new, higher capacity storage card will be able to handle data transfers as fast as 20MB/second to support real-time recording with high-definition cameras such as the Panasonic HDC-SD5 and allowing as much as 4 hours of 1080i video to be stored on a single SDHC card.
The 16GB Flash memory is set to launch worldwide in November, retailing for $320.