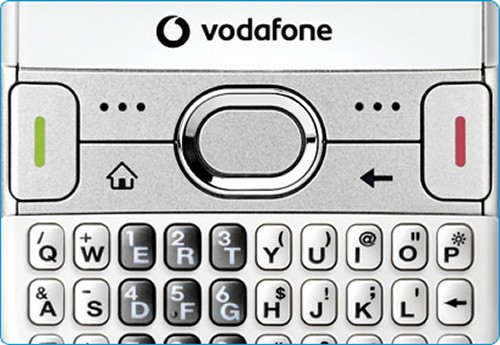 Palm has officially announced the release of the first major revision to the Palm hardware with the new Treo 500v 3G smartphone, coming to Europe via Vodafone October 1. The new sleek looking Treo will come in two different colors of glacier white or charcoal grey.
The 500v will be running on Windows Mobile 6 and supports Direct Push along with POP3 for email connections. It also houses IE mobile with access to Google Maps and eBay and will have Vodafone live! for accessing sports, news, etc.
The hardware on this model lacks a touchscreen (and Wi-Fi), but does have a 2 megapixel camera, 150MB of internal memory and a microSD card slot for capacity expanding. It also features a full QWERTY keyboard, a nice 320×240-pixel Transflective color screen and a center-mounted 5-way navigator for making your way through the features of this smartphone.
For connectivity you'll get GSM (900/1800/1900), GPRS and UMTS (2100) along with wireless Bluetooth 2.0 which supports stereo headsets but, as mentioned before, of course no Wi-Fi. All in all this looks to be a pretty sharp device sized right at only 16.5mm thick. No pricing available quite yet but we'll be sure to let you know as soon as it's announced.
Palm Press Release
Palm Treo 500v