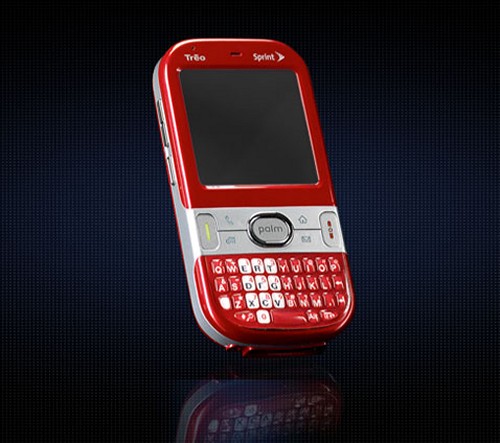 Today Palm announced the release of the Palm Centro, bringing the many circulating spy shots of the "Palm Gandolf" phone into a legitimate reality. The Centro is a non-Treo smartphone targeting those that might like the Treo-type phones but want something that's not quite so business oriented.
The Palm Centro running on Sprint's speedy EvDO 3G network is scheduled to launch in October with Sprint being the original carrier, and the exclusive carrier for the first 90 days. It comes in colors of a loud red or black and in a relatively small, curved package measuring 4.2 inches x 2.1 inches x 0.7 inch thick and weighing only 4.2 ounces.
The smartphone comes equipped with a 1.3 megapixel camera with video capture, a 320 x 320 resolution display, Bluetooth and a microSD slot that supports up to 4GB which you will likely need since there's only 64MB of memory available inside.
Palm says the Centro comes with a battery that will give 3.5 hours of talk time and 300 hours of standby and ships with a number of applications such as Google Maps, Pocket Tunes, Suduko and more. It also supports AOL, MSN, and Yahoo instant messaging.
When Sprint launches the new style-minded Palm next month it will list for $400 which can be cut down to as little as $100 with rebates and contract agreements, making this a very affordable and functional PDA. To make sure you're one of the first to get one pre-ordering through Palm and Sprint starts tomorrow.