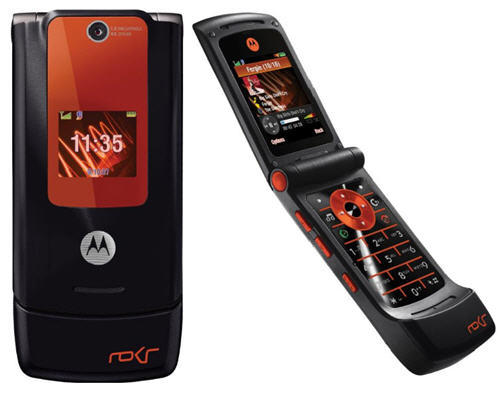 Another day, another leaked image of some company's newest mobile. Today's unlucky company is Motorola and the device in question is the MOTO ROKR W5. With its orange on black fashion statement it certainly stands out, and as Gizmodo said in its headline (and we agree), it looks like Darth Maul's cell phone. Can you say "Hello Moto" to a Sith Lord without getting chopped up by the guy's lightsaber?
The specs for the ROKR W5 also got dumped to the internets. This baby is going to have 20 MB of memory, have Bluetooth connectivity, will have a microSD memory card slot and a 96×85 65K color display for you to text "Sith Lord ownz u" to those annoying Jedi Knights. The device runs off of a 880 mAh Li-Ion battery.
No word on availability or pricing because that would mean that the leak was intentional.
via Unwired View
Mobile Phones, MOTO ROKR W5, Orange, ROKR, W5