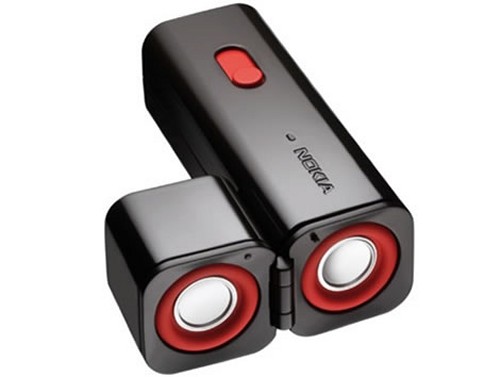 Nokia has some new, small portable speakers that were launched along side their XpressMusic phones to give a handy and portable way to share music on the go. Nokia says that the Mini MD-6 speakers give "great sound" in full stereo from your mobile devices when you on the move, but what we really like about it is the case design.
The MD6 comes in just under a 5-inch case in which the top hinges open to expose two small speakers, and protects them when closed. They then connect to your media player through 3.5mm AV connector (headphone jack?). The specs also mention that the speakers have a built-in FM radio antenna which must be for bringing better FM reception to your player since the speakers don't appear to have any FM tuner controls on it.
The speakers can deliver up to 27 hours of music sharing playback time off of 4 AAA batteries and comes packaged with a couple Nokia Audio adapters, a carrying pouch and with the first set of batteries included.

Nokia Mini Speakers MD-6 via Krunker
MD-6, MD-8, Nokia, portable speakers, Speakers