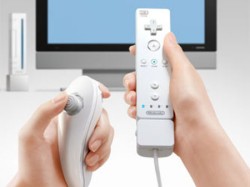 Once again, Nintendo appears to be the clear leader in game console sales for August beating out rivals Microsoft and Sony, according to the latest NPD numbers for United States sales in August.
The Kyoto-based company last month sold 403,600 Wii game consoles, along with 383,200 units of the Nintendo DS handheld game console. According to the Financial Times, the Nintendo Wii is now also the number one best selling "next-generation" game console in the world, pulling ahead of Microsoft's Xbox 360 despite it being released a full year before the Wii. Nintendo has sold over 9 million of the Wii units total, with the Xbox 360 trailing slightly but falling further behind with 8.9 million. The Playstation 3 has around 3.7 million total units sold in its lifetime.
To top off having the top two game consoles for August, Nintendo also has four of the top games for the month with Wii Play at number five, Metroid Prime 3: Corruption at number six, Mario Strikers: Charged at the number seven spot, and Mario Party 8 in ninth place.
Microsoft had 276,700 Xbox 360 consoles sold in August and held the number one console game sales with Madden NFL 2008 for the Xbox with 896,6000 units sold. This marks the first time that Sony hasn't led the sales for a Madden game. Microsoft also has Halo 3 prepping to launch later this month which is likely to help bring some additional attention to the Xbox.
Sony is still coming in the last position for the latest generation game console sales, and it's numbers actually fell last month. In August the company sold 130,600 Playstation 3 game consoles, which is down about 28,000 from the previous months sales. The Playstation 2 continues to hold string however, selling 202,000 units in August. The handheld Sony PSP didn't due too bad either with 151,200 units sold, and this could stand to increase with the new slim PSP's become available.