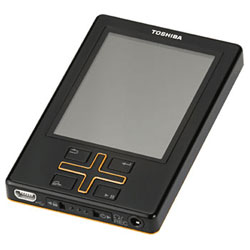 Toshiba is expanding its line of gigabeat MP3 players, the company announced today. It is introducing the new gigabeat T400, a flash-based player priced at around $120.
The Toshiba gigabeat T400, said the company, is its first flash player "high-end audio H2C audio enhancement technology and support for WMA Lossless audio files." It has 4GB of memory, enough to hold up to 1,000 songs, and its rechargeable battery delivers up to 16 hours of playback. The T400 is also capable of playing video on its 2.4-inch LCD color display.
The T400 from Toshiba does seem to have some promise, but past experience with other gigabeats has been not all that satisfactory. We'll have to see if the H2C technology makes a true difference with the audio quality.
Gigabeat T400, media player, MP3 player, Toshiba