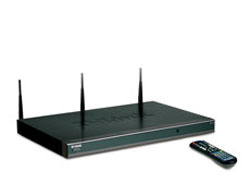 D-Link today unveiled its latest wireless media player device which can double as an Extender for Windows Media Center from Microsoft. The D-Link DSM-750 MediaLounge Media Player is priced at around $350 and should be available in November.
The D-Link DSM-750 MediaLounge Media Player first and foremost is touted as being a Windows Media Center Extender, meaning it can be used to wirelessly stream media from a host PC running Windows Vista with Windows Media Center Extender technology to a device attached to the player. It also offers features like silent operation and a TV user interface for browsing and selecting digital content for playback.
Devices like the DSM-750 are designed to bring the Windows experience more into your home theater room. Thanks, but we'll stick with our TiVos – less worry as compared to that eventual blue screen of death.
D-Link DSM-750 MediaLounge Media Player
D-Link, Media Extender, Set Top Boxes, tv