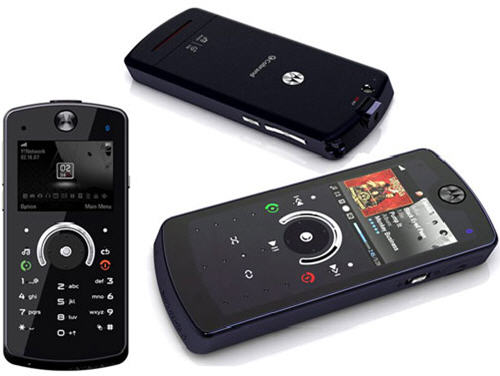 Rumors first popped up online a few weeks ago that Motorola would be introducing a music hybrid into its line-up of European models. Today that gossip became fact when details and photos slipped out concerning the Motorola ROKR E8 Music Phone.
The E8 comes with a 2.0-megapixel camera, 262K color QVGA display, 2GB of internal memory, a FM radio, 3.5 mm headphone jack and a microSD slot for memory card expansion. Since it's intended for the European theater it's GSM/GPRS compatible, at least for now unless Motorola wants to bring it over to the U.S.
An interesting component of the E8 is something that Motorola calls the "Omega Wheel", your navigation control for the music and phone menus. Supposedly the menus will change depending on the function that you are currently using the phone for. It also comes with vibration feedback whenever you press a key.
Motorola is releasing the ROKR E8 in the fourth quarter of 2008. It will retail for 280 Euros. The company also has another new phone, the RIZR Z10, with 3.2-megapixel camera, VGA camera, 90MB of memory and is Bluetooth compliant. That one is due out around the same time as the E8 but for 400 Euros.
via Unwired View
Mobile Phones, Motorola, ROKR E8