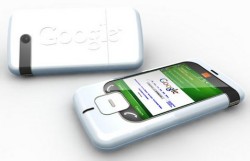 Rumors and speculation are getting heavy regarding information on the Google phone, and this time CrunchGear has dug up some reported "facts" about the device and its functionality.
According to the information from GigaOM, the supposed first Google phone might not be quite as cool or fancy as many of the photos floating around the net have depicted, and we've seem other rumors that it may be as cheap as $100 once released.
It will have a Linux based platform with the OS and applications written in Java, which will support playing some multimedia files. The UI will be similar to typical mobile phones and will unsurprisingly have a Google "Search" box. The phone itself will be made by HTC with a few different models floating around that may be similar to the T-Mobile Dash, and Orange may be involved with the development as well.
Nothing too exciting here but its sounding like Google might put out a phone similar to how they do with their successful online applications, simple and solid.
GigaOm via CrunchGear
Google, Google Phone, Mobile Phones