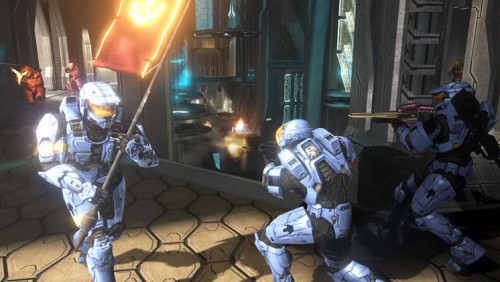 Whether you're a gamer or not it's hard to ignore the recent build-up to what just might be the largest game rollout in history – the release of Microsoft's "Halo 3″. Any closet hardcore gamers in your office could very possibly be outed on Tuesday as more than 10,000 retailers across the nation plan to be open at 12:01 a.m. on Tuesday morning for the launch. Retailers participating in the Halo 3 "Midnight Madness" include Best Buy, Circuit City, Game Stop, Wal-Mart and more. Most of them will also be hosting special promotions along with the launch.
You don't need to frequent one of these popular gaming retailers to catch some of the hype, though. More than likely you've already been exposed to the Halo 3 nation through places like Burger King or 7-Eleven who have Master Chief plastered on their products. Even NASCAR is getting into the frenzy with the No. 40 car at the Dover 400 Nextel Cup Series race featuring a Halo 3 paint theme in today's race.
This release will likely give Microsoft a nice boost for their Xbox 360 game console sales as well and make some stronger competition for the Nintendo Wii who has been leading the latest generation console sales since its launch in November of last year. The Halo 3 release is also sure to improve on that already-impressive seven Xbox Live subscriber's per minute figure, too.
The launch will bring three Halo 3 editions of the game ranging from $60 to $130 with expected first day sales to reach as much as $200 million. Over 1 million copies of Halo 3 have already been pre-ordered.