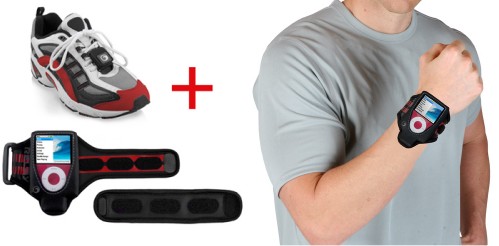 Today Marware launched four new decently priced iPod cases targeting the new 3rd generation video iPod nano, one of which being the Sportsuit Relay, combining two cases in one.
The Sportsuit relay case is created to hold both the new iPod nano and the Nike + iPod Sport Kit receiver and sensor, and includes a small sensor pouch that weaves into the laces of almost any running shoe along with a wristband carrying case. An expansion component to the case lets you also wear the iPod nano on your wrist along with it.
Marware's other cases for the new video nano include the Sportsuit Runabout, Sportsuit Convertible and the SportGrip. The Sportsuit Runabout case encloses the face of the iPod in a clear plastic case with an adjustable strap letting users wear it on the wrist like a watch or on the arm. The Sportsuit Convertible provides a similar case that can be worn on the arm, hand and has a belt clip to attach it to a belt or strap. The SportGrip case is a silicon cover providing protection and a better grip with a clear film for the display and click-wheel.
All four iPon nano cases are available now from Marware, ranging from $10 for the SportGrip to $30 for the Sportsuit Relay.
iPod Accessories, ipod case, Marware, nano, nike kit