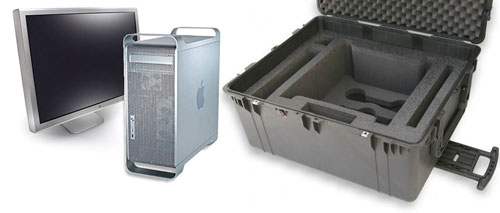 Traveling with your desktop Apple computer is sometimes just what you have to do. We think sticking it in a cardboard box and writing fragile in a black marker is a bad idea though – one of these new Mac Pro Pelican Cases might be a better solution. It will cost you at around $600 but it will probably be worth every penny.
CPD Industries, the maker of this case, says it will hold an Apple Mac Pro or Power Mac G5, 30-inch Cinema Display and accessories such as keyboard, mouse, and cables within custom foam interior compartments. The cases are described as having a "virtually indestructible outer shell, custom inner foam combination [that] provides complete protection from travel-related shock, vibration, temperature fluctuation, spills, water, dust and humidity." It meets a drop test of 48-inches and can even reportedly be submerged 30 feet below water due to multiple latches and a neoprene "O Ring."
Carrying the Mac Pro Pelican Case around is done via wheels and a telescoping handle. CPD Industries looks like it also makes gun cases, so I imagine maybe you could get them to create a secret compartment where you can keep your spy gear?
CPD Industries Mac Pro Pelican Cases