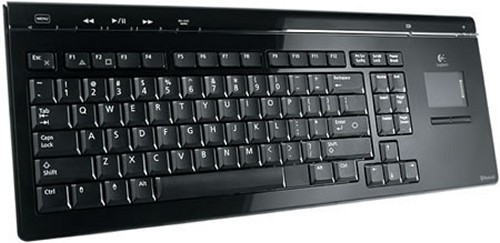 Logitech has announced a new wireless keyboard and headset designed for use with the Playstation 3 game console coming to shelves yet this fall. Both PS3 accessories will use Bluetooth technology to connect to the game console.
The new keyboard from Logitech connects to the PS3 wirelessly and runs on two AA batteries promising up to 200 hours of use. The MediaBoard Pro Bluetooth Keyboard comes in a thin, glossy black finish with many features designed specifically for interacting with the PS3. The keyboard has a built-in touchpad on the right, similar to a notebook touchpad with scrolling and left and right button clicks in the place of a mouse. It also has dedicated keys to simulate the controller buttons such as circle, square and triangle, along with shortcut keys for web browsing and movie menus. And of course the full keyboard works well for fast harassing during gaming and eases the setup of profiles and entering URL's.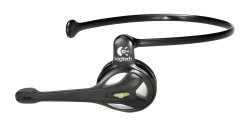 The Cordless Vantage headset is also wireless using Bluetooth and provides wire-free and hands-free communication while gaming. The headset uses large audio drivers and an adjustable noise-canceling microphone to provide clear communications. It's also lightweight and ambidextrous with a behind-the-head design for extended use. It's powered by rechargeable batteries which give it up to 12 hours of use on a charge and comes with a power adapter.
Both accessories work wirelessly from up to 30 feet away in the event that you have your PS3 setup on a big screen, with the MediaBoard Pro Bluetooth keyboard expected to be available in the US and Europe in October for $79.99 USD. The Vantage headset will be out a couple months later in December in both the US and Europe for the same price.

Logitech Press Release
Bluetooth headset, Logitech, PS3 keyboard