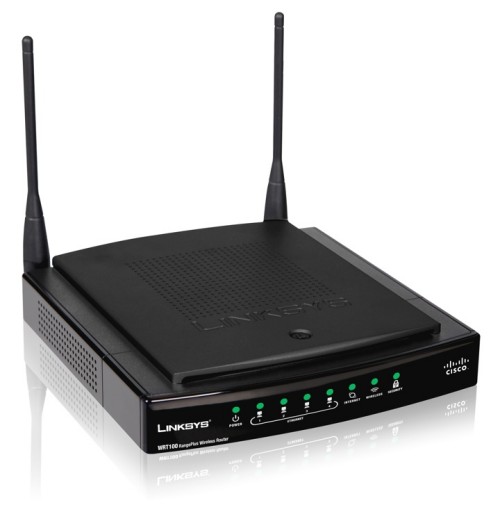 Linksys has some new Wi-Fi products on the market as part of the new LinkSys RangePlus family which promises to increase the range of your home wireless network at affordable prices. The new products include a wireless router (WRT100), notebook adapter (WPC100), PCI adapter (WMP100) and USB Notebook adapter (WUSB100).
The WRT100 router (pictured here) has dropped the Linksys blue color and has taken the flat black look more common of its Cisco parent. The family of RangePlus products uses Multiple Input, Multiple Output (MIMO) technology to provide better coverage in a larger area with fewer dead spots. Although Linksys would like you to buy all the products as they are designed to work together, they will likely support the standard 802.11 b/g. The products do however feature some added features unique to Linksys that make setup a little easier.
The Linksys Easy Link Advisor on the WRT100 router is a software-based "wizard" that steps users through illustrated instructions for setting up a home network. Also, something called WiFi Protected Setup which simply comes down to a button on the different devices that can be pressed to automatically connect them together.
The WRT100 router and WPC100 notebook adapter are both available now for $99.99 each, and the other RangePlus pricing and products will be coming shortly with availability before the end of the year.
Linksys RangePlus Press Release