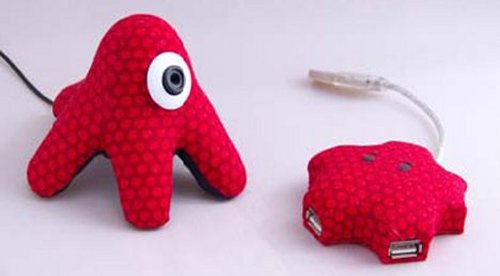 There are two classifications of cute gadgets: the "Awwwww!" group and the "It's Hello Kitty so it must be destroyed" group. We feel that United Pepper's Lili and Oscar fall into the first category and so they should be allowed a place into our homes and hearts (but we will keep the flamethrower close by in case something Hello Kitty should surface.) Awwwww!
Lili is the five-legged octopus lass and Oscar is the starfish-shaped guy. Explained in practical terms, the deep sea dame is a funky designed 1.3-megapixel webcam with microphone while the male marine invertebrate is a four-port USB 2.0 hub (of similar funkyness.) They are both made from environmentally friendly materials such as cotton and sand and both of their bodies are constructed from Kapok, a tree fiber that is to the tropics what cotton is to America's south.
As the first products solicited by UK-based United Pepper they are meant to reflect the ability to make fun, creative and fully biodegradable tech products. Additionally they are 100% manufactured in a fair trade workshop in Vietnam where the laborers get paid decent wages for their hard work. Both Lili and Oscar are available in red, blue or green and will start arriving on U.K. store shelves next month for £29.99 (Lili) and £19.99 (Oscar) or you can pick one or both up from the United Pepper website.
via Hippy Shopper