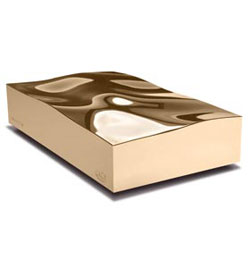 LaCie is taking what we'll call artistic freedoms with its newest external hard drive solution. Open your wallets and expect to shovel out around $190 for the Golden Disk come late October.
The LaCie Golden Disk is designed by French designer Ora-Ïto and has 500GB of storage. It's described as being a "sleek, liquid-inspired device" and should definitely spark some conservations as people pass by your cube. It supports USB 2.0, can be used with Windows and Mac and does, in fact, contain a small percentage of real gold.
You have to give LaCie points for trying a rather unique design idea with the Golden Disk. It's not everyday one shapes a hard drive like this. We still like the wooden hard drive idea better though.
Golden Disk, hard drive, hdd, LaCie