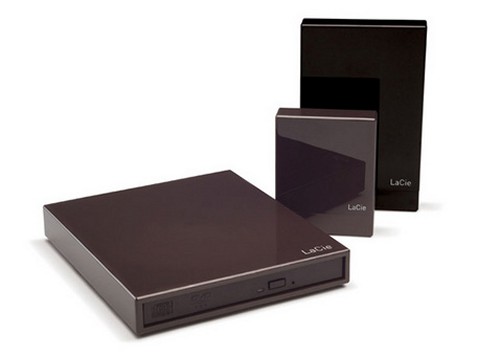 Aesthetics are not something people usually talk about when it comes to Hard Drives and portable storage devices, but would you rather have a clunky box sitting on your desk or a slick looking portable storage device like the LaCie devices pictured here? Designed by renowned designer Sam Hecht, this new line of machines do what they're told and look good doing it.
The LaCie Little Disk line will provide a capacity of 30 to 250GB in 1.8 inch and 2.5 inch drives both of which support the USB 2.0 interface. Additionally the 2.5 inch version will be available with Firewire connectivity and a one-click synchronization and back up function. The drives are available now with prices starting at $90 USD.

Also designed by Hecht is the new DVD±RW 8X portable DVD drive with LightScribe technology and is available in both USB 2.0 and Firewire interfaces. The Firewire version ships with Toast 8 Titanium for Mac OS X and the USB unit comes with EasyMedia Creator 9 software for Windows. With the LightScribe discs the device has the ability to inscribe labels! Both are available now with the USB version running $99.99 and the Firewire version priced at $149.99 USD.

LaCie portable drives via Digital Trends