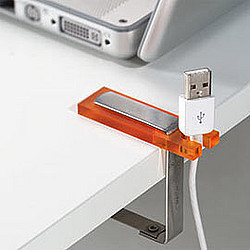 Finally I have found something that will forever change my life for the better. Behold the wonder that is the Knicks Cable Holder, a godsend if you're like me and your desk or floor are covered with cables or, like me, you "hold" the not-being-used USB cables underneath a book or other weightier object.
The device is so simple yet I haven't seen it for sale anywhere else: fasten the Knicks to a side of your desk or nearby piece of furniture and run your cables through it. When you need to unplug one, like a USB, the plug end won't fall to the ground. That's it. As I said, simple as can be but where have you been for all my life Knicks Cable Holder? My $11 is yours.
It comes in two sizes (one for tables up to 1-inch in thickness the other for 1.75-inches) and just one color (white). The downer is that one Knicks only holds one USB cable…so where is the bulk model we need for the digital camera/iPod/laptop lifestyle person like myself? Grr.
Knicks Cable Holder via Oh Gizmo