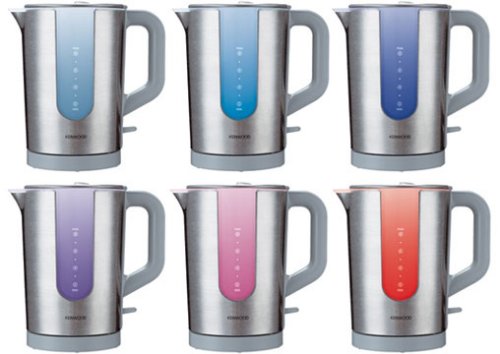 We've seen additions to your tap that will illuminate a colored light so you can visually distinguish between hot and cold running water before but Kenwood's 21st century breakfast set takes things a step further.
The Response 1.7-liter kettle changes color as the water inside starts to get warm and then boil. As the temperature of the water approaches 80 degrees the kettle's middle will cycle from blue to purple to pink to orange. A very handy feature lets you maintain a steady 80-degree temperature for the water to ensure that when you or your guests want a hot cuppa you won't have to wait for the water to boil again.
The matching Response toaster also boasts some fun features to make the morning meal more enjoyable. A LED countdown display shows you how many seconds are left before your toast pops up. You can widen the toast slot to make room for thicker slices of bread or bagels.
A bun warmer is included for any muffins or pastries you want to warm up and the toaster also has a mode that will keep your freshly toasted bread nice and warm until you come back so the butter will be sure to melt once its spread on it.
Kenwood is debuting the two units in Britain shortly with prices TBA.