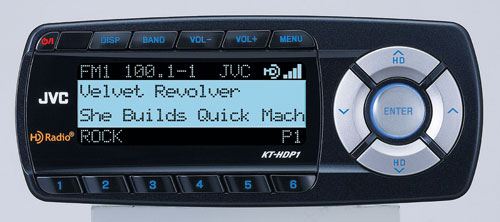 JVC today unveiled what it is calling the industry's first plug-and-play HD Radio receiver. The JVC KT-HDP1, priced at around $130, should be available now.
The JVC KT-HDP1 makes use of three kits for installation in home and car locations. HD Radio data is displayed on the device's full dot matrix LCD display. Other features, according to JVC, include white backlight and blue key illumination, 5-way navigation keys, 18 FM and 6 AM preset channels, HD Radio station scan and seek and 3.5 mini plug audio out.
Some 1,500 stations are now broadcasting HD Radio across the country. The big question though is: how many people are actually listening? I have yet to talk with anyone who says they've listened to this relatively new entertainment format. Most people seem to be drawn to satellite radio.